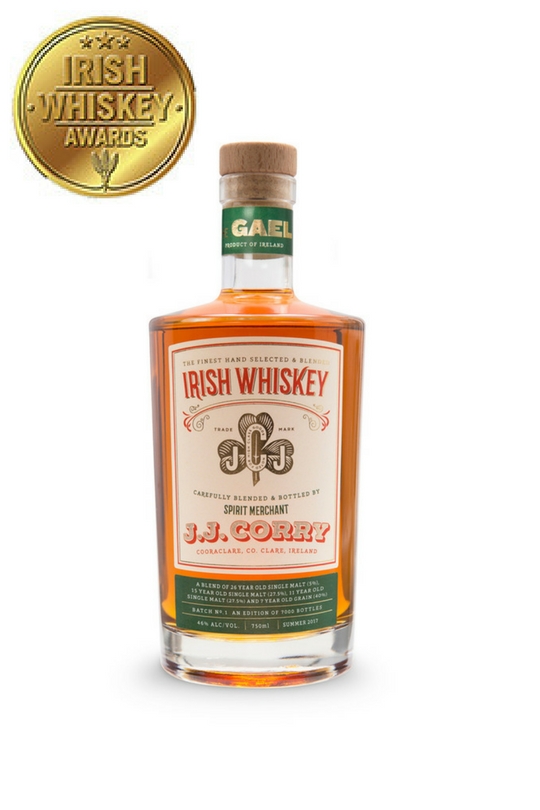 J.J. Corry 'The gael' our first blended irish whiskey release aWARDED gOLD mEDAL IN 2017 iRISH wHISKEY aWARDS
Named after a Bicycle J.J. Corry invented, Our first release The Gael took us just about two years to develop. First we sourced excellent quality and very rare mature Irish Whiskey. Then we set about classifying each cask we have into a particular flavour block. Finally we began blending to create a Classic Irish Whiskey, one bursting with juicy fruit flavours. The Gael has not spent any time on our farm, rather it is our first attempt at beginning to express the house style of whiskey we would like to make in the coming years, once our own stock is mature. Our first batch is only 7500 bottles.
To Buy Online for International Shipping Click Here
To Buy in Germany Click Here
GOLD MEDAL WINNER IRISH WHISKEY AWARDS 2017: Blended Irish Whiskey over 60 euros category
jonny McCormick-Whisky Advocate march 2018
"Chapel Gate whiskey aims to resurrect the lost art of the Irish whiskey bond. This delicious debut is built around parcels of aged single malt and grain sourced from County Louth. Fresh hay, floral blossoms, comb honey, dry spice, oak, a crate of whole lemons, and growing spices. Lemon sherbet, clean vanilla, and a peppery grunt resolve flavors of rich barley sugar and a hot pepper finish"90 points
Martin Moran The Sunday Times "A Complex array of fruit and spice aromas with malt honey and citrus to the fore plus a long smooth finish" 92 points
@WhiskeyJason: "Probably the Best Irish I have had in my Glass"
The Gael is a 60% Malt 40% Grain blend, and is a blend of some of the Oldest Whiskies we have in stock. It is comprised of:
5% 26 Year Old Single Malt Ex-Sherry Butt
27.5% 11 Year Old Single Malt
27.5% 15 Year Old Single Malt
40% 7 Year Old Single Grain
Tasting Notes
Nose:
Hints of fresh bergamot & beeswax
Taste:
Ripe white stone fruit & lime, with minerality & pink pepper corns
Finish:
Medium length, minerals again with dried grapefruit & apple notes